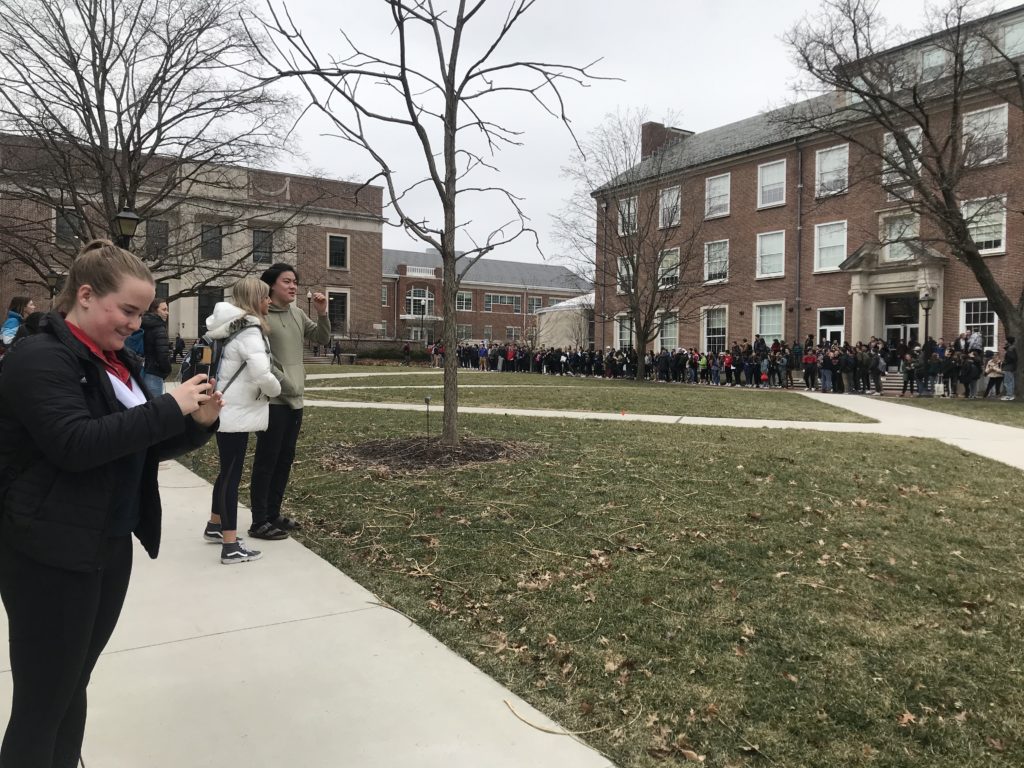 ALINA PANEK, Editor-in-Chief—A small crowd of about a dozen students streak the quad mid-day while others cheer on the sidewalk and professors turn their head to continue teaching class.
Naked week is a student celebration of body positivity and for raising awareness for eating disorders, as it planned to align annually with national body positivity and awareness for eating disorders week.
Over the course of its run, the meaning behind the run has changed drastically. A legacy of 17 years, it was started by Taylor Ferguson '04 on March 2003, who started the tradition with a group of friends in a moment of spontaneity to "bring some of that fun and freedom back … one streak at a time," as quoted in the March 2011 edition of The Denisonian. This was the slogan of the event for many years. The timing of the week was chosen because "…nothing was going on at that time of year."
The 2020 run is more intentional, and brings a sense of pride and empowerment for its participants. Ivan Maldonado '20, the Naked King, said, "It's scary. It's scary in a good way. You're doing something like holy s**t. It's the most empowering thing ever." The Naked King (or queen) is responsible as lead coordinator of the run as part of the Naked Court. His responsibilities include creating the schedule, gathering supplies such as paint and tarp for the themes, and properly advertising so that there are as few unsuspecting students as possible. They are crowned on the last night in the Bandersnatch.
Each night, the run is scheduled to have a theme like "superhero" or "safari" which is represented through body paint. The body paint is part of the celebration and the process of calming the participants' nerves before the streaking begins.There truly are no rules to run except "don't record." Maldonado said that participants are allowed to choose the amount of clothing that they wear. "You're free to do whatever is comfortable to you. I've seen girls in bra and panties. I will say, I've never seen a guy that's not completely naked. Ultimately, we're not trying to force anyone into anything. It's already an incredible step that you're in the room with us so do whatever is good with you."
In the archived Denisonian issue, the history of Naked Week has an uninhibited beginning. Ferguson was hosting a WDUB radio show when some friends decided on a whim to streak campus.
After some phone calls, the paltry contingent streaked under the moonlight to the department of campus safety's chagrin. Over the week, the informal event gained momentum and ended with about 20 students playing naked ultimate frisbee.
In 2013, what began as an anarchist mission became a poignant message in a The Denisonian opinion piece, "Why I ran naked" tells the story of a student who is apprehensive of participating to outspoken supporter in public forums. "At Denison, and during Naked Week, things take on a different hue. We, as a community, have decided that running naked during one week a year is no big deal—and we've found that it's actually a hell of a lot of fun. What may have begun as a small, disrobed middle finger to the administration has grown into a triumphant, unifying and liberating experience for all Denisonians."
Maldonado encourages all Denisonians to try the run, especially if they're on the fence.
"A lot of people get really scared about doing any of the runs," he said. Maldonado noted that one of his most frequent questions he is asked is if he believes they should participate. "It's not like we run naked for no reason. There's a bigger cause. Many do it because after they run they feel this incredible feeling…. It's not something we can describe other people so you have to experience it firsthand. I would encourage other people to experience running during their four years."