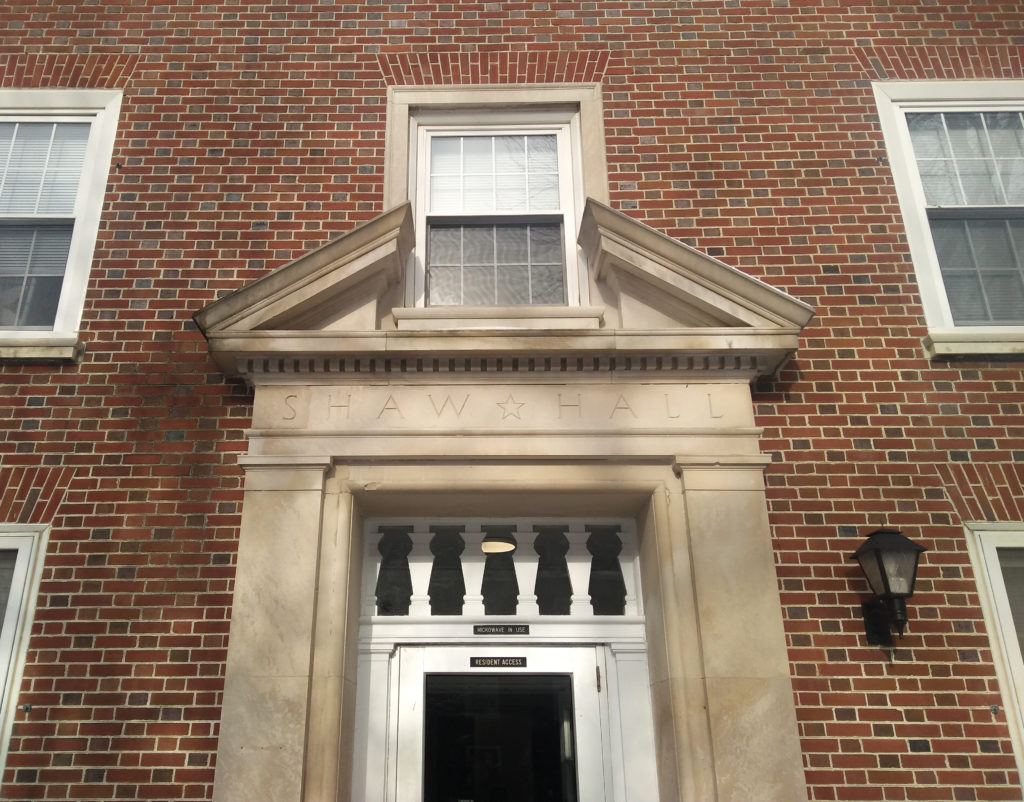 NINA COSDON, Editor-in-Chief—Studying abroad: students are nervous to go, but never want to come back. Denison is working to make this transition a little easier.
It was recently announced that students planning to study off-campus will spend whichever semester they are not abroad living in Shaw Hall.
Designating one dormitory as the Off-Campus Study (OCS) living space is a marked difference from how abroad students found housing in the past.
In previous years, students planning to go abroad as second-semester juniors would go through the housing lottery as normal, leaving those who were returning from their semester abroad to struggle to find any vacancies.
Carianne Meng, Director of Student Housing Operations & Planning, explained that not only was this former method confusing, but it was also a source of disappointment, for it made it difficult for returning students to live with their friends.
There are some students, however,  who worry that these new changes will further inhibit them from picking their roommates. Morgan Daniels '22, a communication major from Columbus, OH, expressed her frustration: "My roommate and I have the most ideal living situation going on and have been planning on living together since this past August. Now all of a sudden we are blindsided and are struggling to make new arrangements."
Meng emphasized that this decision was made to meet the need of students, and based entirely on their feedback.
Meng stated that remedying the housing selection process for OCS students has been one of her top priorities for a long time. She noticed that more students than ever are studying abroad, making it increasingly more complicated to house them upon their return.
This decision to house OCS students together was carefully planned out, right down to the building in which these students will live.
Meng stated that student survey responses showed they wanted to live in a recently renovated East Quad dorm that was relatively close to A Quad. Additionally, students wanted a residence hall that would be affordable across all needs, with singles, doubles and suite options. Shaw Hall seemed to make perfect sense.
Some OCS students doubt this claim. Jade Johnson '22, a political science and Black studies double major from Evanston, IL, stated that Shaw Hall mainly contains six-man rooms and is therefore more expensive. "I think that making those going abroad live in Shaw is very restrictive because it forces people to room with people they may not feel comfortable with. It also is very cost restrictive because Shaw mostly has rooms for many people, not just singles and doubles, and if you can't afford that the school essentially said it's your problem. They were very clear in their email that the rooms available may not match a person's affordability."
However, Shaw Hall is intended to serve as much more than a dorm for students traveling off-campus. 
Director of Off-Campus Study Katy Crossley-Frolick outlined her plans for beneficial workshops and programming to be held in Shaw Hall. Some of these include prepping students for their academic course load abroad, giving ways to cope with homesickness and health and safety training courses. Crossley-Frolick also plans for Shaw to host cultural events and foreign language workshops.
While administrators maintain the usefulness of such programs, students had their doubts. Jake Gunther '22, an anthropology/sociology major from Somerville, MA, said he didn't believe that "living in the same dormitory as someone else going abroad will enhance each other's experiences, especially since the programs range in location and structure so dramatically."
Upon their return, the shared community of Shaw Hall will help students transition back into life at Denison. For students who haven't satisfied their wanderlust, the OCS office will present the Shaw residents with possible next steps, such as job opportunities or fellowships abroad.
OCS student ambassador Cecil Millen '20, an international studies and Spanish double major from Davidson, North Carolina, is a staunch advocate for devoting Shaw Hall to students traveling off-campus.
Millen compared the "reverse culture shock" of returning after studying abroad to freshman year move-in day. According to Millen, readjusting to Denison "with a dorm full of peers going through the same experience is an objectively good thing…I wish I had it when I was coming back from abroad."
"It's all about keeping students engaged," said Erik Farley '03, Dean of Student Leadership and Community Engagement. By giving OCS students a space to connect and discuss their shared experiences, Denison aims to ease the transition for those leaving and returning to campus.