SAMARA BENZA, Features Editor—Across the country, girls and women gather on National Girls and Women in Sports Day to celebrate women who made athletic history, women who make a difference every day in athletics, and to inspire young girls to pursue sports—to not shy away from the challenges that come.
Denison held their own commemorative event on Feb. 4 in a packed Herrick Hall with both women and men in attendance.
Five Denison alumnae came back to Denison to talk to students about their time playing sports at the collegiate level and their lives after.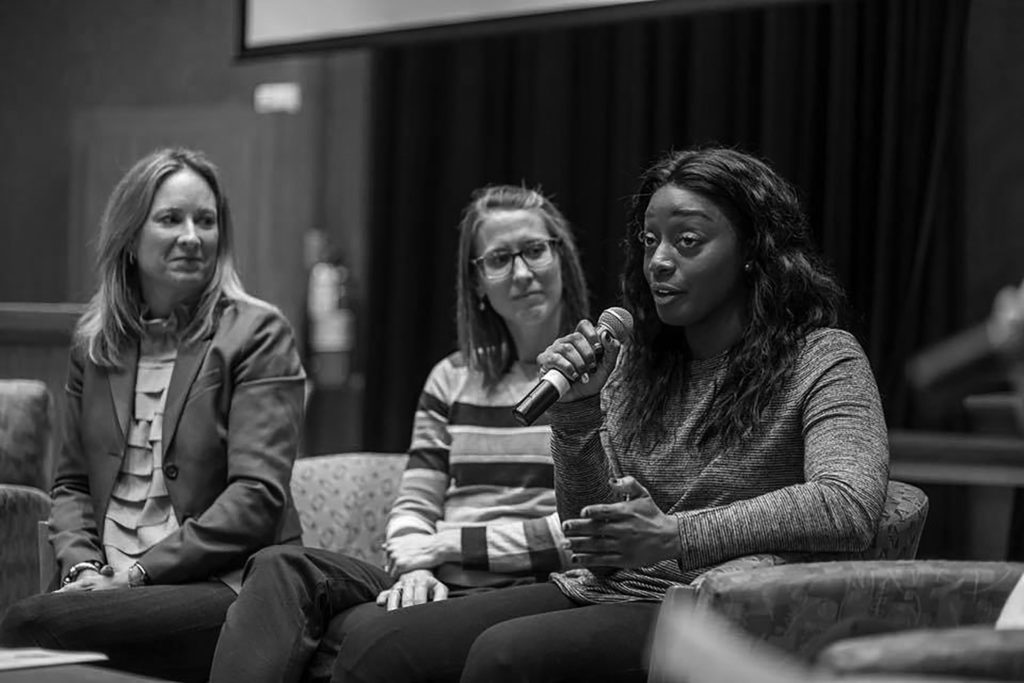 Nan Carney-DeBord, associate vice president and director of athletics, was the moderator for the event in addition to putting some of her own thoughts into the conversation.
Alison Nissen '89, Heather Harris '94, Melanie Lott '04, Annie-Rae Dura '12, and Marcy Stoudt '94, were all in attendance that evening to share their experiences.
Nissen played women's rugby during her time at Denison and is currently a humanities professor at Southeastern University in addition to being a writing coach and co-founder of Revel Coach with her sister (Stoudt, who was also on the panel).
Revel Coach is a platform designed to be a community where women can learn, grow and be inspired by other women.
Harris played soccer and a little bit of basketball throughout her Denison career. Currently, she is the COO (Chief Operations Officer) of Five Seasons Family Sports Club and coaches her children in basketball, a sport she has always adored.
Lott is the most decorated hurdler in Denison women's track and field career and is an Assistant Professor of physics and astronomy here at Denison.
She was recently inducted into the Varsity D Association Athletics Hall of Fame, Class of 2019.
Dura was a four-year member of the basketball team at Denison. In 2017 she graduated with her M.B.A. from Tiffin and is pursuing a career in marketing.
Marcy Stoudt, '94, played club soccer and rugby during her time on the Hill. She co-founded Revel Coach with her sister (Nissen) and is the executive coach at the company.
These five powerful women reflected on their time here at Denison and their countless hours spent down the hill at the Mitchell Center with fondness.
Stoudt explained that she "loved the challenge that [rugby] was such a male sport" when she thought back to her hours on the field.
Nissen explained that the community on the rugby team was a great environment to be in. "We had each other's backs. We were in it together."
Sports has had a huge impact on these women, as it continues to on students still at Denison today. Harris explained that sports "defined who [she] was…there's no place in my life without sports."
Lindsay Cruikshank, '23, plays squash at Denison and has participated in sports for the majority of her life.
She expressed the importance of sports in her life: "Sports provide insight into my own thoughts and emotions but is also a time where I can be completely myself."
Dura had a slightly different experience and explained the challenges she faced throughout her time on the basketball team.
She considered quitting as balancing school and family life began to be too much, but after talking with her coach she decided against it and says she's "super happy that [she] kept playing because it kept [her] sane."
As she looks back on her time on the basketball team she says she learned so much, such as the importance of being solution oriented and how to communicate with others.
When the panel was asked if they experienced any gender bias in the workplace and how being a college athlete gave them the skills to push through, Nisen spoke up.
She explained, "I didn't allow anyone to cloud my peripheral view of my potential."
The biggest piece of advice she could give to women and girls today is to "stay focused, don't allow someone else's opinion affect you."
Lott weighed in on this question and told the audience to break tasks down into smaller, more manageable tasks and then "let your results do the talking for you."
In the end, participating in college sports, whether they be in club, intramural or competitively are "guaranteed to provide success for you," Stoudt states.
Carney-DeBord weighed in on the subject nearing the end of the night and concluded "the prize at the end of the day is the relationships you build."