Alina Panek, Editor-in-Chief —
Few have the chance to have a fully faculty body as pupils. In mid-March, the Education Technology Services (ETS) team gave the faculty crash courses in online learning modules and conference calls to help support the remote learning transition due to COVID-19.
The instructors had about two weeks and 60 courses to bring faculty up to speed on the latest technology for learning. Some professors were already familiar, teaching part-time for online classes for other campuses, and others were very experienced professors in the classroom but not often on the internet.
Topics included:

Remote Learning and Teaching: Overview and Discussion
Remote Learning and Teaching: Strategies, Approaches, and Tips
Google Meet for Live and Recorded Classes 
Google Meet and Chat
NoteBowl Basics
NoteBowl for Assignments, Quizzes, Tests (Intermediate)
Screen Capture for Video Lectures
Creating Slides and Presentations with Audio
Recording Audio Lectures
Sharing Documents with Google Drive and Notebowl
Google Drive Basics
Walk-in lab → Online labs for additional support → office hours
In an ETS preliminary survey to gauge where professors stood in their comfort with the prospect of remote learning, about "clear majority of faculty put down they were self-sufficient or knew the technology they would be using."
Donnie Sendelbach, Director of ETS, said, "The faculty have been phenomenal. From what I know, it would be hard to find anyone who has been in a situation where you had to move remotely immediately. Denison's faculty have really risen to the occasion. I recognize that this is hard for them and they have risen to the occasion with the grace. They really want to do right by the students."
A standout student in these sessions was Dr. Anthony "Tony" Lisska, philosophy professor, who has taught on the Hill for over 50 years. He was present in many of the sessions.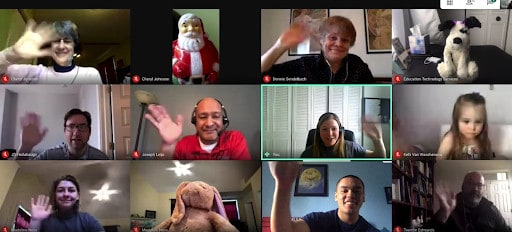 "He was marvelous," Sandelbach said. "He wanted to not sacrifice rigor and learn how to make the course manageable. He had a good attitude and open mind."
Rohan Arora, a student in Lisska's class, said that Lisska has chosen to conduct class through video conference and frequently has an ETS member on call to help troubleshoot in real time.
As professors reach closer to final examinations, their biggest complaint is not technology problems but rather interaction from students and student engagement.
"I think there's a real concern about students struggling and they don't know that it's going on," Sendelbach said. "Students have varying levels of connectivity issues with the internet at home. Reach out to somebody or a professor. It is not the time that no news is good news."
Sendelbach is looking forward to future planning. She mentioned that Dr. Jeff Kurtz, communication professor and director for Denison's Center of Teaching and Learning, is creating a "posse" to address the issues that remote learning brings now that we have gone through one iteration.
The ETS director echoes many other leaders, she is uncertain about the future for herself and her department.
"My advice is do the best you can, just focus," Sendelbach said. "No one could have predicted the pandemic. There is still a plan even though everything is still in flux. Regardless, we are continuing to still have faculty lessons online."