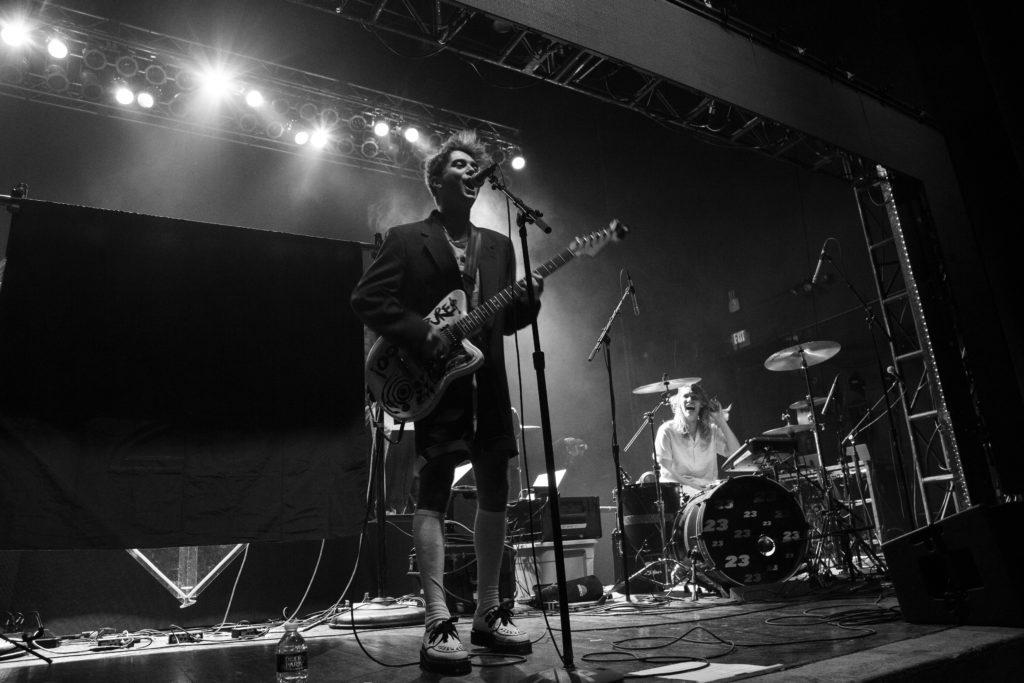 PAULA TORRES, Photo Editor—London Jackson and Jacob Ames, aka "X-Lovers," recently sat down with The Denisonian; while based in LA, the pair's first "big" (in their words) tour brought them to Columbus this past weekend. 
For the childhood best friends, navigating the ever-competitive music realm has become a necessary means to create "the kind of music that [they] want to hear."
The two grew up on a wide range of music, particularly the music of Kanye West and Green Day; "They were always unique and always weird, but they were so masterful at it and put so much work into it that it was, like, the biggest sh*t on the planet," which is a quality they try to emulate in their own unique way.
The two have since entered the music scene through a genre that they refer to as "confused pop", giving the world of pop their own touch. "It's Pop at the end of the day," said London, "but we don't hold ourselves to, like, it has to be one way or another."
The duo describes their music making process as coming in two waves: creating music, and releasing it for the public to hear. Within the span of five days after having released one of their first singles and having been recently signed to their first major label, the group accumulated over two million Spotify streams on their single "Colder When It Rains." "Once we release a song, we feel like it's no longer ours, like it's everyone else's," London explained, "That can feel either really great or really weird, with ["Colder When It Rains"] it felt f*cking amazing!"
As they continue growing within the music realm, their "How to be Human" tour has allowed the group to learn from both Chelsea Cutler and Alexander 23; "They've actually both been touring longer than us, so we feel like students in watching the show every single night." Describing themselves as "stupidly competitive," X-Lovers are constantly pushing themselves to grow and be the best possible musicians they can be, while following the example of their peers and using it as motivation.
Looking toward the future, the duo finds motivation and inspiration in the meaningful work of Stormzy, a British rapper, who they described as the musician they'd currently most like to collaborate with; "There's something about British rap that just hits me differently."
With a new EP on the way the duo seeks to be unique like their inspirations but in such a crafted manner that their fans can easily relate to what they share. "I remember just wanting to collaborate with people I directly looked up to, like Green Day," explained Jake, "but now as the time's gone by, we've become more ourselves."