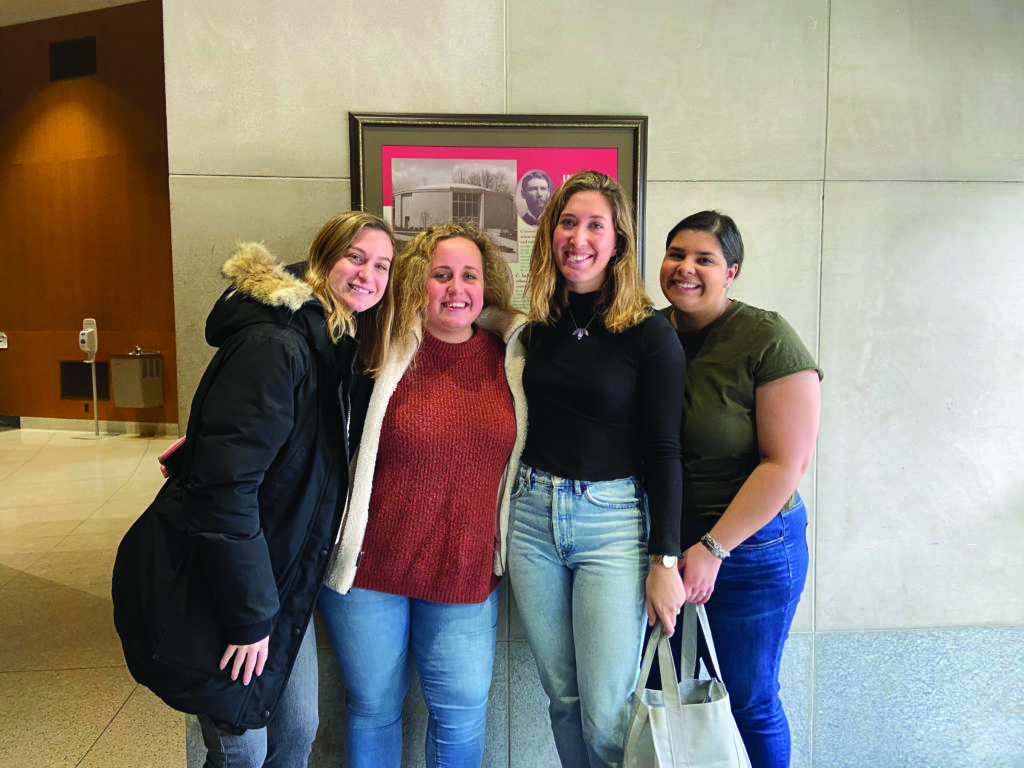 SAMARA BENZA, Features Editor—Mental health and mental illnesses have been topics of conversation both on Denison's campus and across the country. The conversation hits home to many of Denison's students and faculty as well as Granville and Licking County citizens, as the epidemic is present in all of our lives.
Mission 34 and Active Minds came together to put on the "Let's Bust the Stigma" presentation with hopes to raise awareness of mental health and mental illnesses. They also hope to stress the urgency of erasing the stigma surrounding suicide and mental illness. They brought in Penny Sitler, executive director of Mental Health America of Licking County to talk to Denisonians and local Granville citizens about the importance of speaking up and talking about mental illnesses.
Mission 34 was created in honor of the passed Sean Bonner of the class year 2020 who died by suicide in 2018. His parents were in attendance and both spoke regarding the importance of busting the stigma. Heather Bonner, Sean's mother, said, "it shows strength to talk about anxiety and mental illness, not a weakness."
More reading: Mission 34: An advocacy group in memory of Sean Bonner '20
Sitler provides astonishing statistics near the beginning of her speech that show the importance of prevention work: one in five people suffer from mental health related problems each year. She explains that people are four times more likely to die by suicide if someone close to them died by suicide. Suicide is the most preventable kind of death but when people don't talk about it that is when the problems come in.
Sitler stresses the importance of the proper language when talking about suicide. The common way of talking about it is saying "they committed suicide." But Sitler stresses to stay away from this. Saying someone committed suicide places the blame on them as if they did something wrong; instead say "died by suicide." Mr. Bonner talked on this point in his speech when he stated that the reason his son died was depression and the effect was suicide. Sitler calls it "people first language" where we focus on the person who is suffering, not the illness or suicide.
Sitler talked about a method called QPR. QPR stands for question, persuade, and refer and was created to offer hope through positive action.
The first step, question, aims at starting the conversation. Asking a friend "are you thinking of suicide?" is a hard question to ask but it is crucial. Sitler states "ask a question, save a life." She also explains that "there is nothing better than talking to someone who walked the walk you're walking right now and talking."
After you ask the question it's time to persuade. If the friend is considering suicide it is important to persuade them to seek help in whatever form necessary and appropriate.
Finally, refer; refer your friend to a professional who can help them, be it a psychologist, medical specialist, even a pastor.
#B4Stage4 was created to bring awareness to the stigma surrounding mental health. Sitler explains that years ago cancer had a major stigma surrounding it and no one would talk about it. Now, when we hear someone has cancer we immediately say "What can I do to help?" "Do you need me to take the kids or drive you to your appointments?" Sitler wants the same to happen for mental health. She explains that "mental health is something you have not something you are."
Remember, suicide prevention is everyone's business and everyone can help prevent the tragedy of suicide.
Follow Mission 34 on Instagram @Mission34SPB and keep an eye out for their website that is expected to launch soon: mission34.org. For more information about Mental Health America of Licking County call 740-522-1341 or visit www.mhalc.org.
If you need help, reach out:
Whisler Wellness Center: 740-587-6200
Local Crisis Hotline: 211 or 740-345-help (4357)
Mental Health America of Licking County: 740-522-1341